Features :
Flow Tubes are fabricated from solid acrylic blocks to give maximum accuracy, visibility and ruggedness. Floats are precision machined from stainless steel / PVC. Sharp bevel edges are provided for highest accuracy in taking readings. Other float materials are available for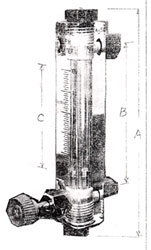 specific requirements. Metering valves of preciSion machined needle type are incorporated for easy, accurate flow control. Packing of Neoprene rubber is std. Teflon optional. Pipe Connections: 1/4" NPT / BSPT / hose nipple. Direct panel mounting or pipe line installation is possible.



Scale: Directly engraved on the acrylic body. Calibration is individually done by using air and water at std. conditions. To calibrate for other fluids, reliable empirical conversions are used. Service Conditions to a maximum of 7 Kg/cm2 & 1000C.